The container throughput of Yantian Port exceeded 1.46 million TEUs (twenty-foot equivalent units) in September, breaking the global monthly record for a single terminal run by one port operator again, following the record of 1.42 million TEUs in August, statistics from Shenzhen Customs show yesterday.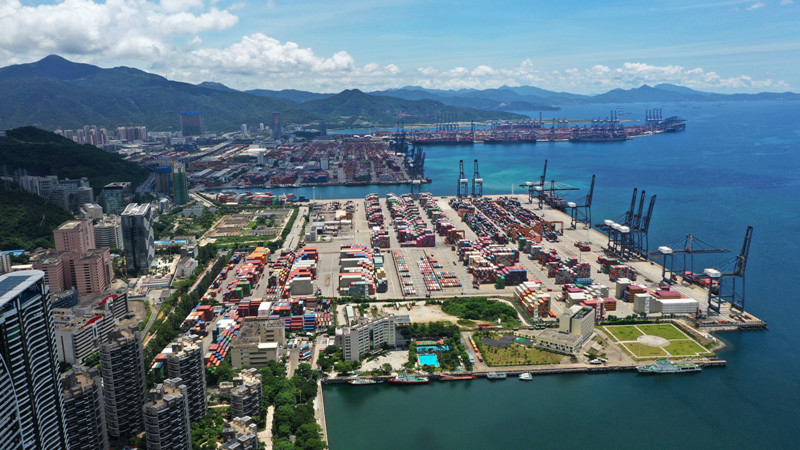 In the context of the ongoing COVID-19 pandemic, Yantian International Containers Terminal (YICT) strived to expand business while maintaining stable operations. It opened three new North American routes, two new European routes and four new Asian routes in July and August, strengthening the port's role as a shipping hub for line-haul transportation to Europe and the U.S.
The growth was attributed to the effective measures in COVID-19 prevention and control that enable stable work and production, and strong demand of exporters in the traditional export season between July and October, according to Shenzhen Customs.
Facing the increasing import and export cargo and the terminal handling volume, Dapeng Customs has taken measures such as allocating more staff and extending inspection hours to ensure inspections can go smoothly during the peak periods.
In terms of export inspection, thanks to the efficient inspection of Dapeng Customs, zero lines and zero backlogs of cargo were realized, which solved the urgent need of cargo owners to "catch up with the vessel schedule," and the cargo was shipped out smoothly.
In import inspection, a new cold-chain inspection platform was launched through the cooperation between YICT and Dapeng Customs, adding 29 new inspection slots to serve the increasing demand for reefer container inspection brought by the pandemic more effectively.
In August, Dapeng Customs completed inspection on more than 10,000 inbound and outbound containers, a year-on-year increase of 18 percent. The initiatives taken by Dapeng Customs in cargo inspection have improved the clearance environment of Yantian Port and facilitated the efficient operations of the port.
"The fast customs clearance and good port service reduced the cost of cargo owners and forwarders. The arrival of the world's first LNG-powered container vessel CMA CGM JACQUES SAADE to the port Oct. 6 is good evidence," said Lin Jianchun, manager with YICT. Measuring 400 meters long and 61.3 meters wide, the vessel can carry 23,112 TEUs.