Representatives of international trade offices in Shenzhen visited Zhongying Street in Shatoujiao, Yantian District, and attended an investment promotion conference yesterday.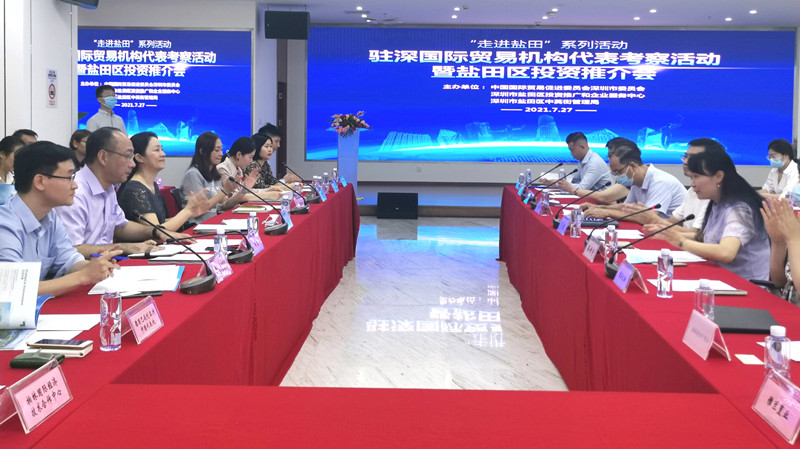 Officials of the Yantian District Government and CCPIT Shenzhen exchange ideas and thoughts on future cooperation with trade representatives. Photos courtesy of CCPIT
The event was organized by China Council for the Promotion of International Trade Shenzhen Municipal Committee (CCPIT Shenzhen), Yantian District Investment Promotion and Enterprises Service Center and Zhongying Street Management Bureau. It attracted 18 representatives from 15 overseas trade branches in Guangzhou and Shenzhen, including NRW. Global Business Trade & Investment Agency, the Dubai Multi-Commodities Center (DMCC), and Sino-German Society for Education and Science Exchange.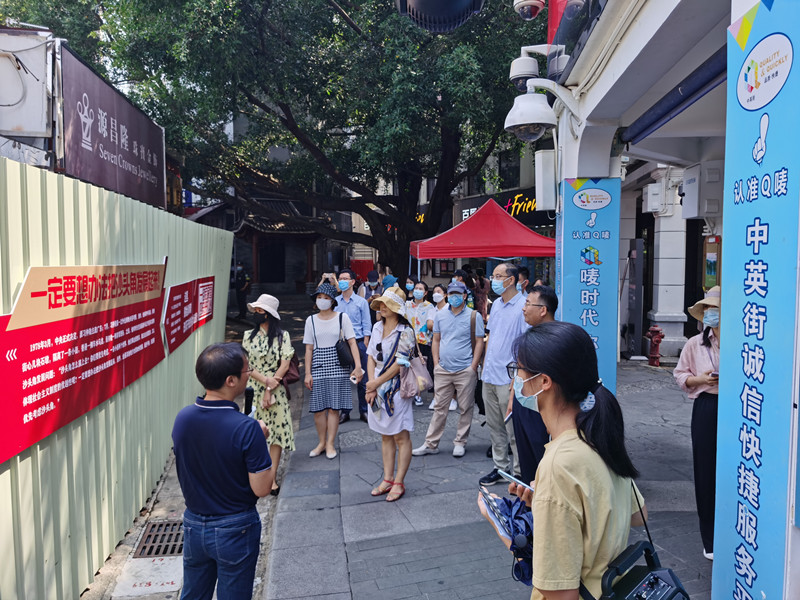 A staffer with Zhongying Street Management Bureau presents the street's history to representatives of international trade office in Shenzhen.
In the morning, the representatives visited Zhongying Street, which witnessed the development of Shenzhen in the 40-plus years of reform and opening up.
Luo Yi, deputy head of the Yantian District Government, said at the exchange meeting that the district's favorable business environment, port logistics, advanced technology, ecological environment as well as supporting policies for talents and enterprises make it attractive for businesses from home and abroad.
Liang Jie, head of NRW (North Rhine-Westphalia) Global Business Trade & Investment Agency, told Shenzhen Daily that the event will be a starting point for the cooperation between NRW in Germany and Yantian. "It deepens our understanding of each other and shows a promising future for the two sides to work together in fields of cross-border e-commerce and biological technology," Liang said. "Our organization wants to encourage more Yantian bioscience firms to develop the market in NRW, which is also famous for its biomedicine industry."
Cheng Liangjia, general representative of DMCC, said that their organization aims to encourage Chinese enterprises to go global. "Before the meeting, I had very limited knowledge of Yantian. The event got me familiarized with the district and its leading enterprises," Cheng said.
She said she hopes more Yantian firms will open branches in Dubai as the city is equipped with a complete industiral development support system in the bioscience field.
Tang Jin, vice head of CCPIT Shenzhen, said the event was a bridge connecting Yantian and global economic and trade organizations. "The exchange meeting helps Yantian's enterprises improve their strategies to meet foreign customers' needs, as well as increase opportunities for Shenzhen's overseas offices to recommend local firms to foreign countries," Tang said.