Shirley Frias Torres and Melody Del Valle Frias, a mother and daughter from Colombia, both donned pretty dazzling dresses and shined on the stage of Shenzhen Spring Festival Gala this year. They sang "Once You've Come, You're a Shenzhener" with singers from all over the world, which touched many in the audience, especially those who live and work in Shenzhen.

The screenshot of Shierly and melody's performance at the Shenzhen Spring Festival Gala on Feb. 6.
Shirley initially came to Shenzhen as a singer with her husband Marco Antonio Del Valle Gonzalez, a saxophonist, in January 2008 because of a job offer that asked for them both.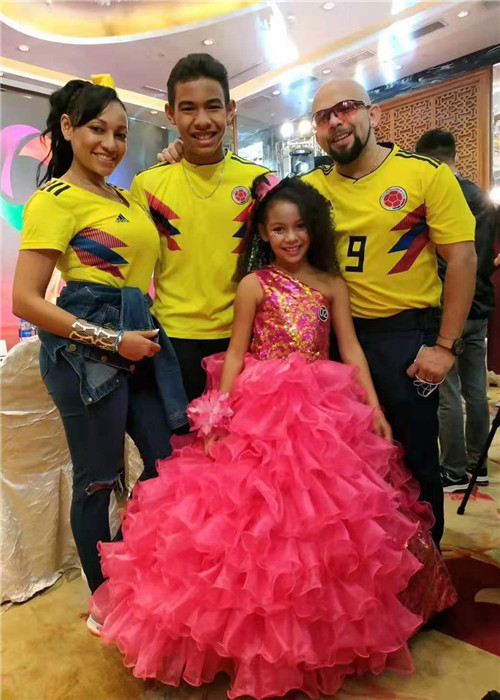 The Colombian family at the 9th Shenzhen Expats Chinese Talent Competition on Nov. 3, 2018. Courtesy of Shirley Frias Torres
"In Colombia we had a friend who had lived in Asia for a long time. She was back in Colombia for holiday and was looking for a band for Galleon Restaurant & Bar at Intercontinental Shenzhen. She needed eight people including singers and a saxophone player. So we grabbed the chance and came," recalled Shirley.
Currently, the couple is working at Sheraton Dameisha Resort, Shenzhen.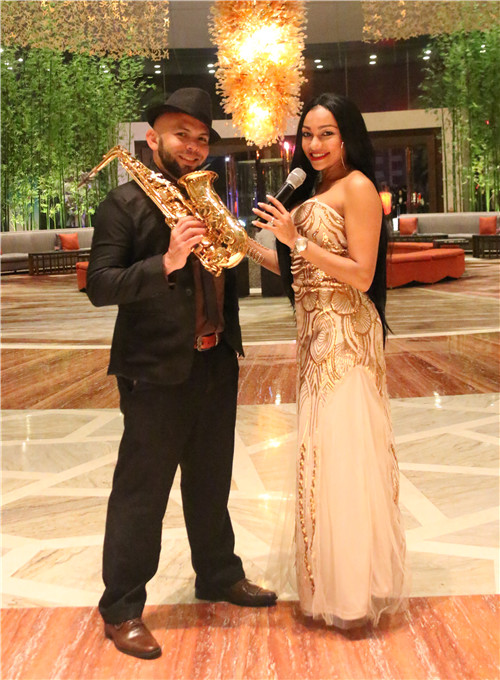 Shirley (R) and her husband Marco Antonio work at Sheraton Dameisha Resort, Shenzhen.
"We really like our work. The place is very beautiful. It's full of people all the time so it's not boring. We can sing whatever we want. They really like our performances and that's why we have been working there for eight years. The customers know us. We like the food there," said Shirley.
Musical family
The couple first met because of music. "I met my husband during a rehearsal some 16 years ago in Colombia. We were performing and working for the same music company. Later, we got married and had our first son Gian Marco," said Shirley.
They have two kids, an 8-year-old daughter named Melody Del Valle Frias, who was born in Shenzhen, and their 14-year-old son Gian Marco Del Valle Frias, whom they brought to China at the age of 3.
The couple inherited the love for music from their respective families. Marco Antonio's grandpa played double bass, and Shirley's grandpa was a guitarist and composer, and several of her uncles are musicians.
Now, like their elders, they are also influencing their kids with music. As the father excels at different musical instruments and the mother has the beautiful voice of a lark, they form a musical family full of love. Music is one important source of happiness for the family. You can see different instruments in every corner of their home in Futian.
"When he was a kid, every morning I woke up and started to play an instrument, so my son was like: Oh father, I want to play saxophone too. So when I practiced my saxophone, he also wanted to follow me. Our home is like a music house," said Marco Antonio.
They bought musical instruments for their kids as toys. "My son played with the saxophone when he was a baby. He learned how to play saxophone first and later guitar," said the father, adding that their son is now fond of playing drums.
As for Melody, there is one interesting fact about her name. Her father thought of the name before her mother was even pregnant. "Melody" means "a tune of music" in English. Shirley once worried that with such a name, it would be embarrassing if her daughter could not sing well. Luckily, Melody has a melodious voice.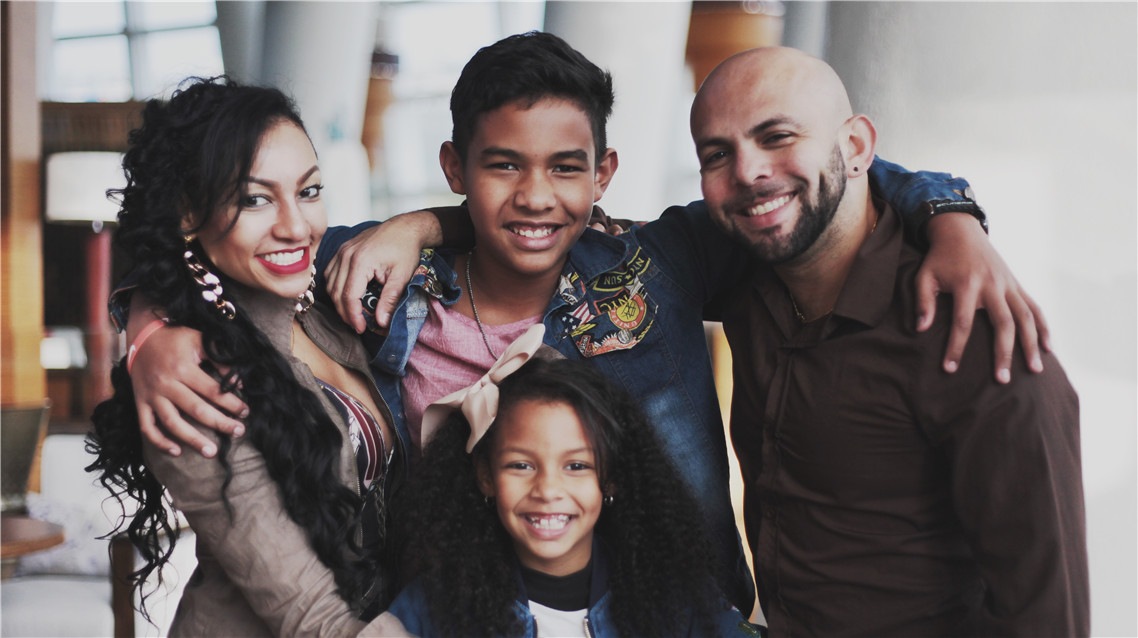 Apart from performing at the Shenzhen Spring Festival Gala, Melody also shined at the Shenzhen Expats Chinese Talent Competition last year. As the youngest contestant in the competition, she showed the future of Shenzhen to the audience through her paintings. She also sang two Chinese songs while dancing, leaving a deep impression on the audience.
"I was a bit nervous and excited. I wanted to get on the stage as soon as possible. Although I didn't get the first prize, I was still very happy because I tried my best. I want to attend the competition this year as well," Melody said. She loves singing Chinese songs.
Third culture kids
Living and studying in China, both kids can speak three languages — Spanish, English and Chinese.
Gian Marco came to China when he was 3. At the beginning, things were difficult for him because he couldn't speak Chinsese. "I remember the first time I went to the Chinese kindergarten and my mom said she would pick me up in a few minutes. And I just waited there hour after hour crying. She lied to me and I was just crying there," Gian Marco recalled with a laugh.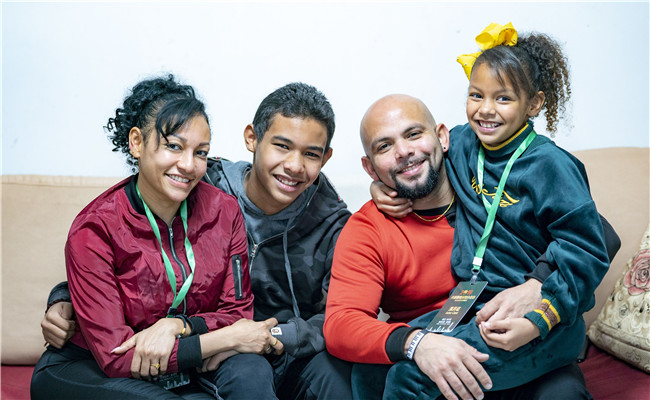 Luckily he learned the Chinese language very fast by playing with Chinese kids. Now all of his friends are Chinese. "I go out with my Chinese friends on weekends, going to the cinema, playing with our phones, talking... We go to Coco Park or Wongtee Plaza in Futian," Gian said.
For Melody, things are easier. "She was born in China and learned to speak Chinese with the nanny. Her Chinese is better than her Spanish. When she was very small, she wanted to talk to us in Chinese. We answered in Spanish that we didn't understand her and she needed to tell us what she wants in Spanish. That's why she started to learn Spanish," her mom said.
Happy living in Futian
Although Shirley and her husband work at Sheraton Dameisha Resort, Shenzhen, the family has lived in Futian since 2010.
"We chose to live here because it is the center of the city. The kids study here. We like it because we can find everything here. For example, if you want to eat pizza, you have pizza. If you want Chinese food, you have Chinese food. Shekou is also convenient for living, but it's more expensive and far for us to go to work," said Shirley.
The kids also love living here. "I like Shenzhen more than Colombia because there are more fun things here. I like Coco Park a lot, the cinema especially, because there are new movies all the time," said Gian Marco.