Most people tend to choose to settle down in a city that matches their personalities. Being a research scientist, Dr. Sunil Kumar Sahu maintains discipline and a balanced life between work and personal spaces, which are part of the reasons why he was drawn towards the city and decided to work here.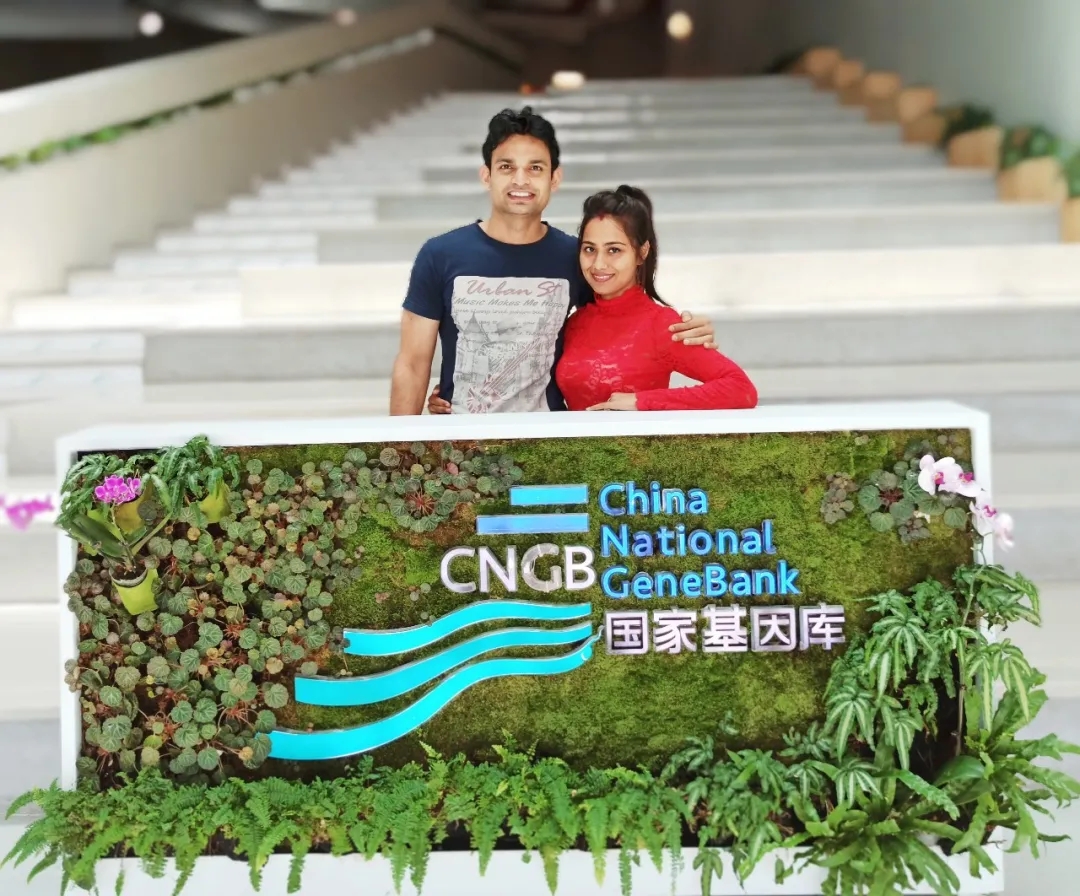 Dr. Sahu (L) poses for a photo with his wife Nandini at the campus of China National GeneBank. Photos courtesy of the interviewee
"The more I explored Shenzhen, the more I fell in love with this city. What I love about Shenzhen is its law and ordinance," he said, further explaining that "In Shenzhen, the cleanliness, management of traffic, rules, public services, health, etc., are well organized. It fulfils all your basic to modern lifestyle requirements supplemented by a healthy and natural living environment."
Dr. Sahu, hailing from a small village of Chhattisgarh, India, has been working as a research scientist in the field of plant genomics since 2018 at the Institute of New Agricultural Resources, China National GeneBank (CNGB), BGI Research in Dapeng New Area. His newly married wife has an internship at the same institute with him.
The 33-year-old told Shenzhen Daily that doing research is not just his job but also his passion, which brought him from India to Sun Yat-sen University in Guangzhou in 2015 to join a postdoctoral program. While studying in Guangzhou, Dr. Sahu heard a lot about Shenzhen and during the International Botanical Congress held in Shenzhen in 2017, he was invited to visit BGI/CNGB and was amazed by the infrastructure and research facilities of BGI. "I couldn't find a better place to learn and explore the area of genomics than at BGI, which is a global leading expert in genomics and bioinformatics," he said.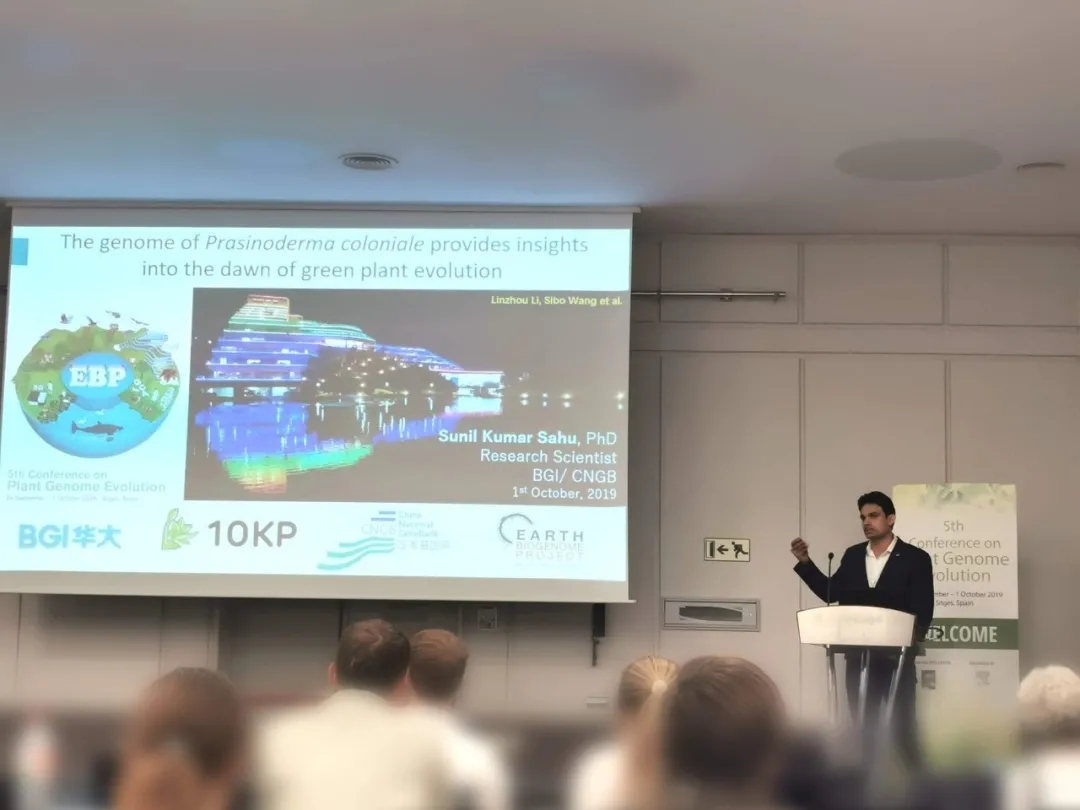 Dr. Sahu delivers a speech representing BGI-Research at an international conference in Spain.
Being a researcher in plant genomics, Dr. Sahu gives the thumbs up to the city government's efforts in balancing environmental protection and economic growth. "The city's efforts in environmental conservation are really appreciable. I often share the Air Quality Index (AQI) of Shenzhen with my Indian and other foreign friends, to make them aware of how nicely the top-tier city is maintaining the balance between nature and city growth," he said.
Dr. Sahu also admires local Shenzhen residents about how they follow rules and regulations in public spaces, as well as their disciplined and health-conscious way of living.
"Though traffic is there at peak hours and weekends, I have seen everyone follows the rules and regulations. They are very responsible towards their duties."
In the eyes of Dr. Sahu, people in Shenzhen are "disciplined and health-conscious people," which has a significant impact on his life. "When I came here for the first time, I saw people from small children to elderly citizens were actively participating in various physical activities like jogging, dancing and hiking mountains like a pro and they maintain a very healthy lifestyle that includes a right exercise with balanced diet."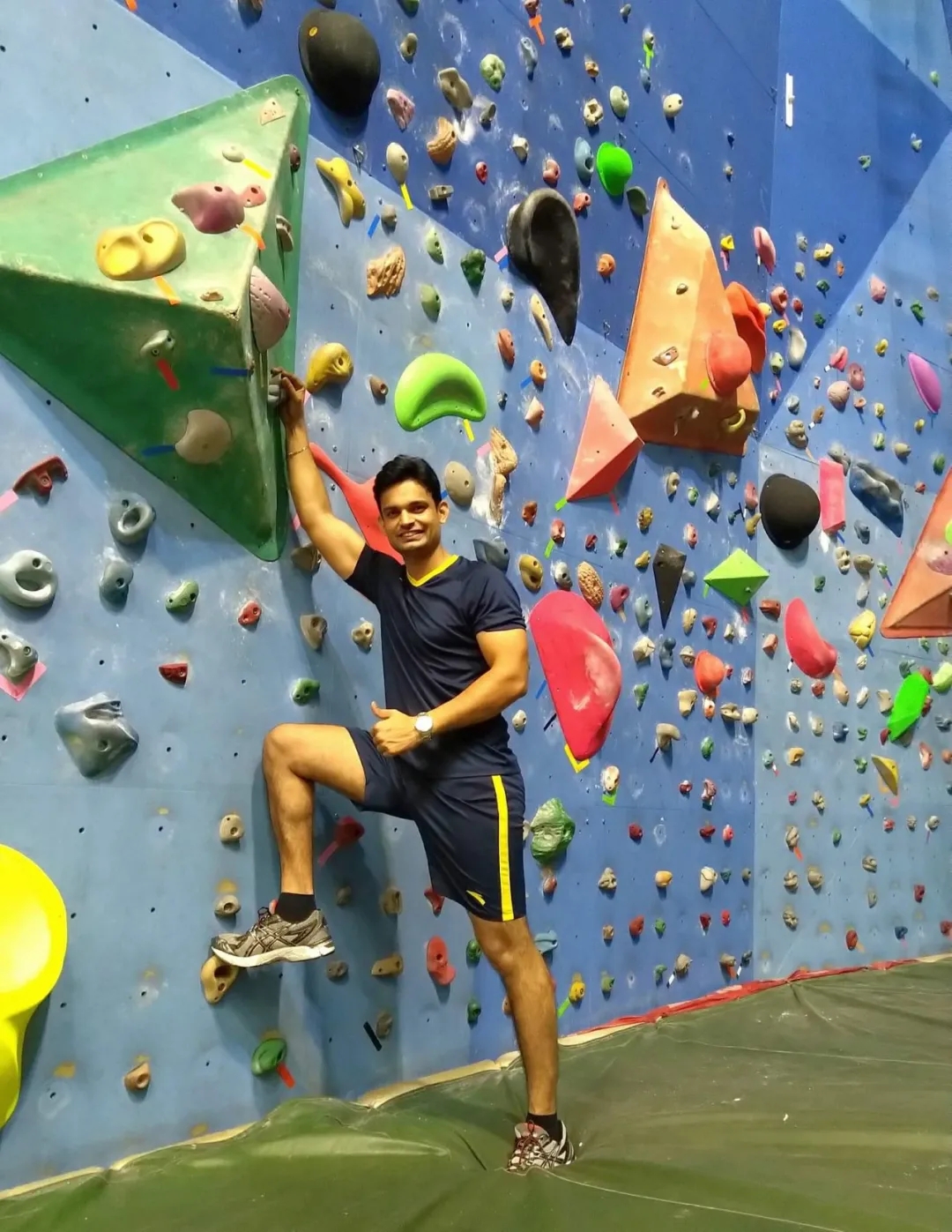 Dr. Sahu participates in a rock-climbing activity on weekends.
In 2019 Dr. Sahu received 300,000 yuan (US$43,300) of the Shenzhen Municipal Government's "Research Grant" and 50,000 yuan of the "Wutong Phoenix" class-D talent award. He says that financial support from the government is very helpful for early career researchers. "I think the Shenzhen government is a very forward thinker. They do understand and believe that investment in scientific research and innovation plays a crucial role in generating innovation-based economic growth, through both the training of scientists and engineers and the generation and transfer of knowledge. That's the reason why Shenzhen has already become the city of innovation and technology, and why talent is attracted to this city of opportunities," he said.
Being a sports enthusiast, Dr. Sahu loves hiking, going to beaches and sightseeing with his wife and BGI friends. He is also a certified fitness coach of CrossFit and gives free training to students and staff at his institute. In addition, he enjoys helping his wife cook and watching movies together. "I want to break the stereotype that scientists are mad, boring and lab nerds, and prove that researchers can also enjoy, have fun and live a healthy life as well. Being physically fit provides you with more energy to get things done, whether that's in your personal or professional life," he said.
Talking about his future plans, Dr. Sahu says he is quite flexible and open to whatever opportunities the future may hold. However, he mentioned that he wishes to serve his motherland India someday even though he has been away from his family and home for many years.