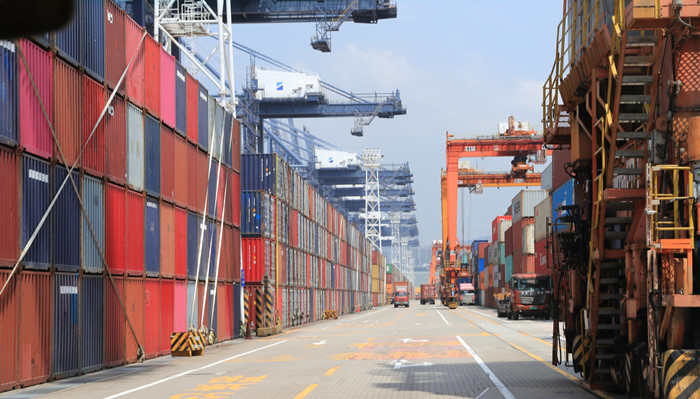 Photo by Sun Yuchen
Yantian International Container Terminals (YICT) broke records in single ship operation in South China and in China, respectively, by handling 21,472 and 22,398 TEUs (twenty-foot equivalent units) in two separate days.
On Aug. 17, the company handled 21,472 TEUs from the container ship APL RAFFLES, breaking the company's record of 18,447 TEUs in 2020 and creating a new record in South China.
On Aug. 19, the company handled 22,398 TEUs from another container ship MSC FLAVIA, creating a new record in single ship operation in China, a report of Shenzhen Economic Daily said yesterday.
Since it resumed full operations at the end of June, the Yantian port has been boosting its operation while acting on COVID-19 response, improving operational efficiency and service quality.
In June and July, YICT opened six new shipping routes. In August, A FUJI, an extra loader from Transfar Shipping Pte. Ltd. and AS CLARITA under Aladin Express DMCC, called at the Yantian port and departed for other international ports fully loaded.
On Aug. 11, the world's largest container vessel Ever Ace under Evergreen Marine called at the Yantian port on its maiden voyage. During its inaugural call, over 8,200 TEUs were handled at the terminals. After completing cargo handling in Yantian, the vessel departed for Europe, carrying 21,710 TEUs.
"It is a big challenge to load and unload such a large amount of TEUs swiftly and smoothly, while acting on tight COVID-19 prevention and control," Cen Qicheng, YICT managing director, said. Cen attributed these new records to the company's teamwork and trust over YICT service and efficiency from shipping companies and cargo owners.
The growth was also attributed to strong overseas demand in the normal export season between July and October and the rise of e-commerce.
"With growing demands overseas, speed is the lifeline of cross-border e-commerce. We choose Yantian because of its flexible and resilient express services," said Wang Yali, vice president of Tomtop, a Shenzhen-based cross-border e-commerce technology company.
Yantian has worked closely with shipping lines to roll out express services. Currently, there are 14 express routes to the Americas and Australia. Among these services, a ship can reach Los Angeles in only 12 days and 11 days to Sydney, which can meet the needs of customers for fast shipment.
At the end of July, Pinghu South Depot was established as YICT's sixth inland port. After clearance procedures, export containers can then be shipped via the Pingyan Railway to the Yantian port for loading onto long-haul vessels.
In terms of export inspection, the port cooperates with customs to reduce clearance time and simplify clearance procedures. The number of regulatory documents required for import and export has been reduced from 86 to 41. Cargo owners can choose advance declaration, two-step declaration, collective declaration or other ways for clearance declaration. The time for clearance is reduced by more than 50 percent for fresh food, emergency materials and other cargo that need expedited clearance.