Shenzhen launched "Shenzhen Government Online" in French, Japanese and Korean at a ceremony in Futian District yesterday. Government officials including Vice Mayor Zheng Hongbo and a number of expats attended the ceremony.
Apart from the Chinese version, the current "Shenzhen Government Online" has four foreign language versions, namely English, French, Japanese and Korean.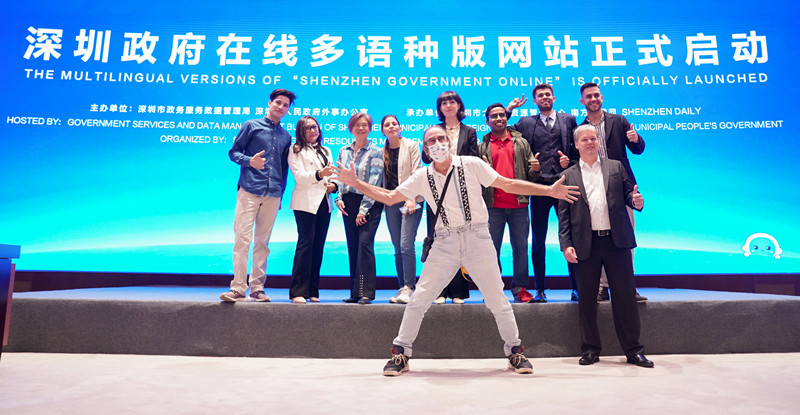 Expats pose for a photo at the launch ceremony of the multilingual versions of "Shenzhen Government Online" in Futian District yesterday. The website now has foreign-language versions in English, French, Japanese and Korean.
The website's multilingual versions display Shenzhen in a comprehensive way, focusing on public services, investment, tourism, life and interaction.
The website also has special features highlighting the Guangdong-Hong Kong-Macao Greater Bay Area and the fight against COVID-19.
Different formats, including articles, pictures, and bilingual and even multilingual videos, are used to better tell Shenzhen stories.
Liu Jiachen, director of the city's government services and data management bureau, made a speech in English at the ceremony.
"At present, more than 30,000 foreigners work and live in Shenzhen and many of them have made important contributions to the city's economic and social development," said Liu. "To better integrate into the city, they urgently need to learn about all aspects of the city's development. Shenzhen, as an important window to the world, should further integrate with the global development. Also, the world needs to learn more about Shenzhen and China. Therefore, Shenzhen is making itself more visible to the world."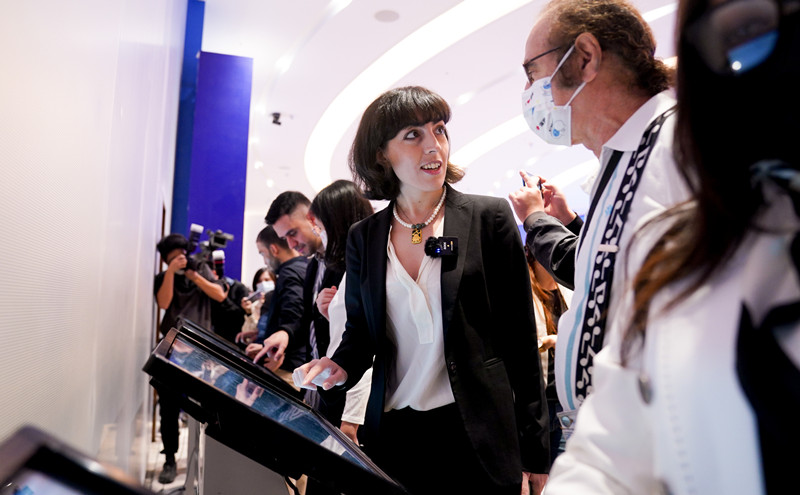 Expats talk during the launch ceremony of the multilingual versions of "Shenzhen Government Online" in Futian District yesterday.
According to Liu, the English version of "Shenzhen Government Online" was launched in September 2006. Over the past few years, the English version has gone through continuous upgrades and optimization. At present, the English version has nine channels with more than 30 main columns, including investment, life guide, tourism, law and administration services, with more than 30,000 daily visits on average and a total translation volume of more than 2 million words, which practically boosts the internationalization of Shenzhen.
During the COVID-19 pandemic, "Shenzhen Government Online" launched the bilingual channel "City's War on COVID-19." This channel provides foreigners timely and authoritative information about COVID-19.
By doing so, "Shenzhen Government Online" contributes to the city's fight against the pandemic and continuously improves related services, Liu said.
In the English version, a special column called "Have Your Say and Make Shenzhen Better" has been set up to collect foreigners' feedback and suggestions about COVID-19. After collecting many foreigners' opinions and suggestions on the prevention and control measures, the English health code miniprogram "SZiU" was established.
At the ceremony, three expats shared their user experience on the English version of the website. Pollyanna Koh from Singapore, president of Shenzhen Women's International Club (SWIC), said that her favorite column on the website is "What's On."
"All the various activities in Shenzhen show that Shenzhen is a very dynamic city. Beyond business and advanced technology, Shenzhen also shows that it has got lots of culture and nature. As a social expat group, Shenzhen Women's International Club, we are trying to bring our members to assimilate into the local community, have fun and enjoy the city," she added.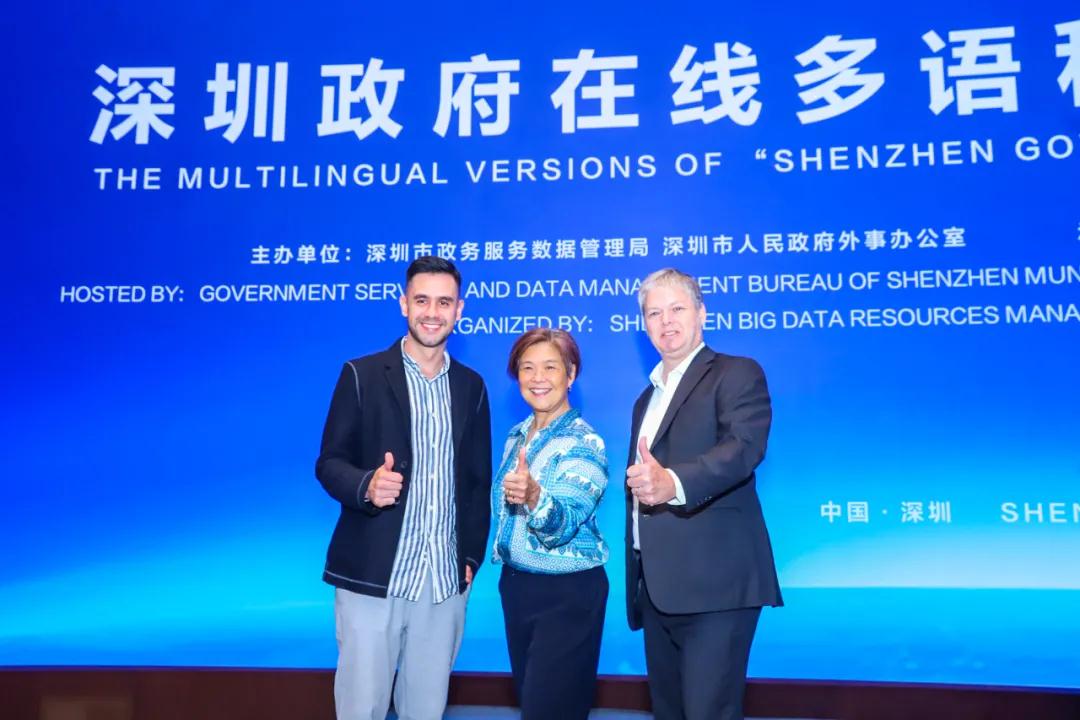 (From L) Rafael Saavedra, Pollyanna Koh and Ronny Verdoodt pose for a photo at yesterday's launch ceremony. South.cn.com
Ronny Verdoodt from Belgium, founder of the local charity group A Heart For China (AHFC), said the English version of the website provides expats with new regulations for charity and also for COVID-19, which are very important to them.
"I feel super excited and pleased to see this kind of initiatives here in the city, knowing that it's a platform that you can find trustful information in your own language about the city, about places to visit, and about all the requirements to apply for a visa or work permit. Shenzhen is a city that is growing and booming, and more people want to come here," Rafael Saavedra from Venezuela told Shenzhen Daily. He is the guest relations manager of Shenzhen Nanshan L'Hermitage Hotel as well as a vlogger in love with Shenzhen.
With the launching of the government website's multilingual versions, Saavedra suggested that a Spanish version should be added.
"Maybe we have a bigger and also growing community who speak Spanish — the Latino and Spanish communities. So why not also make a Spanish version of this webpage? That will also be useful and a lot of people will use it very much."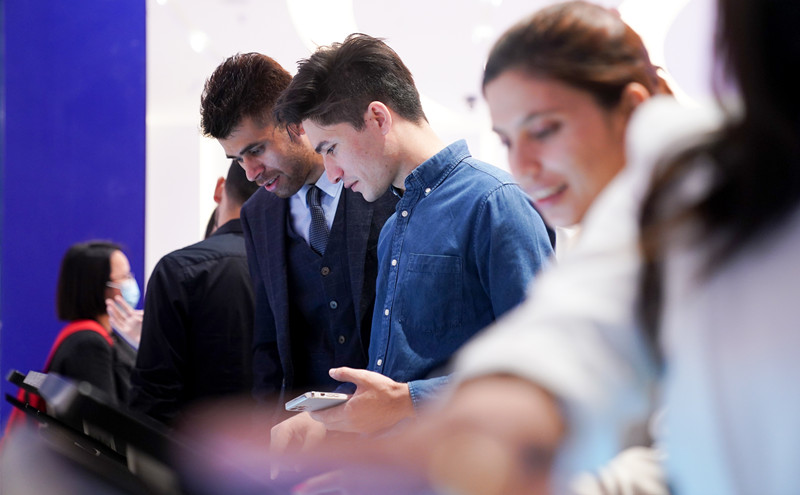 Expats look at the newly launched multilingual versions of "Shenzhen Government Online."
"Shenzhen is like a gem hiding in the sea which has been formed over a short period of time. Many people are not aware of China and Shenzhen. So, it is required to provide authentic information about Shenzhen to the outside world. And thus, here comes 'Shenzhen Government Online' in multiple languages which is the encyclopedia about Shenzhen to the world," said Syam Melethil Sethumadhavan from India, who is a student majoring in information and communication engineering at Shenzhen University.
According to Melethil, expats can check out information and addresses of different venues including banks and hospitals on the government website, which is very convenient. "But for newcomers who don't speak Chinese, they face difficulty even if they know the address. So, I recommend that the website could add a location-sharing function along with the address so expats can easily navigate using maps, just like the location sharing option in WeChat," said Melethil.
The launch ceremony was hosted by the Shenzhen Municipal Government Services and Data Management Bureau and the Shenzhen Municipal Foreign Affairs Office, and organized by Shenzhen Big Data Resources Management Center, South.cn.com and Shenzhen Daily.